Gaming?..
Ah!, well every kid on this planet must be very well known about gaming. It is the most and top prior activity for any child who is living on this planet… And sometimes for some adults also, as an individual grows his/her gaming preferences change from video games to sports, for a tech-savvy his gaming abilities or preferences grow from low-level consoles to high and immersive gaming technologies and consoles like Xbox, PlayStation.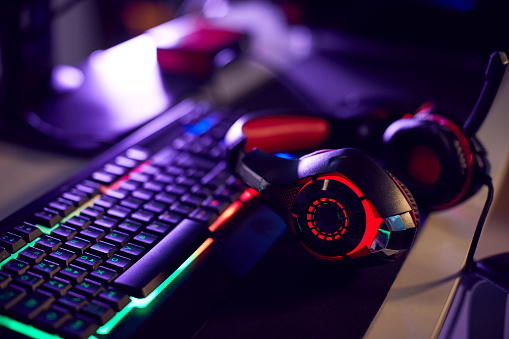 Origin of gaming:-
Many many years or moons ago humans found some ways to amuse themselves with certain kinds of activities like throwing a ball, hitting any object with a stick, involving their friends in the same activity, some popular multiplayer games that were originated from ancient India is hide and seek and cricket, football and the list goes on… These games gained immense popularity across the globe and shaped the future of gaming and sports.
Video games as another form of gaming:-
Gaming is not limited to outdoor or indoor games or running and hiding here and there, from many years ago various technologies have evolved which allowed their players to control certain character visually in a type of video or graphic stimulation by sitting in their houses very efficiently and comfortably by certain kinds of controllers like a joystick and remote controllers. Although this has various bad effects on the health of their players, video games became the most loved or advanced form of gaming for human beings due to its remote accessibility, like we don't need any friends or other people to start the game, we can just sit and enjoy…
Evolution of video games:-
Video games have seen such a great evolution from cheap and low-end console games like Super Mario, contra to high-end and super awesome graphics rendering games like GTA5, battlefield, player unknown's battlegrounds, etc.
Sony has released its series of console names as PlayStation, currently, PlayStation 5 is the latest model.
VR Gaming:-
VR gaming is the term used to describe a new generation of computer games with virtual reality (VR) technology that gives players a truly immersive, first-person perspective of game action. Participants both experience and influence the game environment through a variety of VR gaming devices and accessories, including VR headsets, sensor-equipped gloves, hand controllers, and more.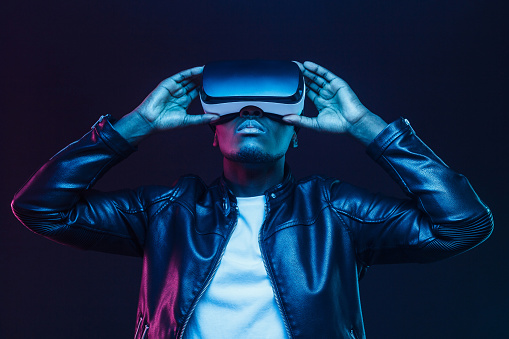 How video games are developed:-
Game development is a software development process, as a video game is a software with art, audio, and gameplay.
Programmers write new source code, artists develop game assets, such as sprites or 3D models. Sound engineers develop sound effects and composers develop music for the game. Level designers create levels, and writers write dialogue for cutscenes and NPCs.
For example big gaming companies like – Ubisoft, nimco has its own company and gaming industries to develop video games.
Most popular video games:-
Super Mario is known as the most popular video game in the history of video games ever. So was its popularity that in the early 1990s and modern era also many people are addicted to it, inspire of being such a low rendering graphics this game managed to do well at the gaming industries market.
Giant gaming developers:-
Ubisoft is a French video game company headquartered in Montreuil with several development studios across the world? Its video game franchises include Rayman, Raving Rabbids, Prince of Persia, Assassin's Creed, Far Cry, Just Dance, and the Tom Clancy's series. As of March 2018, Ubisoft is the fifth-largest publicly traded game company in the Americas and Europe in terms of revenue and market capitalization.
Bandai Namco was a Japanese multinational video game developer and publisher headquartered in Ōta, Tokyo? It held several international branches, including Namco America in Santa Clara, California, Namco Europe in London, Namco Taiwan in Kaohsiung, Taiwan, and Shanghai Namco in mainland China.was a Japanese multinational video game developer and publisher headquartered in Ōta, Tokyo? It held several international branches, including Namco America in Santa Clara, California, Namco Europe in London, Namco Taiwan in Kaohsiung, Taiwan, and Shanghai Namco in mainland China.
Pacman:-
Pacman is a maze arcade game developed and released by Namco in 1980.
In this game, The player controls Pac-Man, who must eat all the dots inside an enclosed maze while avoiding four colored ghosts. Eating large flashing dots called "energizers" causes the ghosts to turn blue, allowing Pac-Man to eat them for bonus points.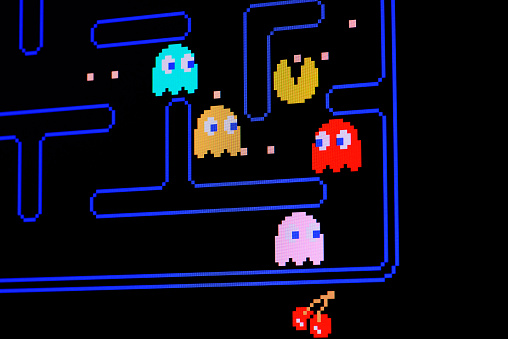 Motion gaming:-
A motion gaming system, sometimes called a motion-controlled gaming system, is one that allows players to interact with the system through body movements.
Cognitive benefits of gaming:-
1. Improves problem-solving skills–
Video games involve certain rules. This means that the player has to think carefully before making any move to ensure that they stay within the required rules of that particular game. The player needs to make split-second decisions that will determine whether or not he or she will advance to the next level of gaming-
2. Improves coordination –
When an adult or child is playing a video game, he or she is not only staring at the computer inactively. The activities and actions on the screen provide a lot of mental stimulation. For one to play, he or she will need to coordinate their visual, audial, and physical movement.
3. Improves attention and concentration–
Video games especially action games have proven to be able to capture the player's attention for the entire period of the game. This is brought about by the player's need to achieve certain objectives within the game, and be able to progress to the next level.
4. Improves social skills–
Online gaming enables many players to engage in a particular game simultaneously. As such, there is constant communication between the players which in turn results in the development of meaningful as well as casual relationships among them.
Points to remember for a game–
1. A controlled gaming is must necessary for any individual playing video games for hours and a long time may damage one's eyesight
2. One must always observe the other outside world after immense gaming as it will draw his/her attention to our real nature.